Tradičně jarní vícedenní setkání v Heřmanicích 12. až 15. dubna 2018 bylo ve znamení VELKÝCH a malých projektů.
Několikadenní setkání je příležitost ušít něco nového, projekt, který potřebuje radu nebo i vedení zkušenějších kolegyň, věc, kterou šijeme společně. Je to příležitost kreativně si odpočinout, pobýt s dobrými lidmi a v příjemném prostředí.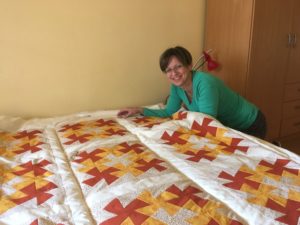 K rodinné farmě, kde bydlíme, patří starost o veškerá domácí zvířata, i o ovečky.
Sešlo se nás velmi málo a tak jsme měly možnost do šicí dílny přinést velké deky, některé již opakovaně. Některé deky teprve vznikaly, trochu jsme chybovaly, lehce to bolelo a maličko se páralo, ale estetický poradní sbor vždy pomohl a pochválil. Některé z nás dokázaly ušít i deky dvě. Počasí se předvedlo první jarní bouřkou a barevnou duhou a před usnutím nás pozdravila hvězda Večernice.
Malé projekty se nesly ve znamení drobných dárků a spousty malých zvířátek, určitě udělají velkou radost. Podařily se i tašky, Burdyška a Esterka.
A na závěr společné focení všech ušitých projektů.